Indian Independence
August 15th marks the day that Britain relinquished control of India through the Indian Independence Act, 1947, and led to the creation of the nations of India, Pakistan, and in 1999, Bangladesh. This date is celebrated annually in India as Independence Day. Mohandas Gandhi called this "the noblest act of the British Nation", and while things did not begin very smoothly during the formation of the Indian state, there are still many reasons to celebrate the official birth of our country every year.
This national holiday usually begins with shehnai music, played by Ustad Bismillah Khan, being broadcast across the whole country. Then, there is a televised address to the nation by the Prime Minister after he has hoisted the national flag on the remains of the Red Fort in Old Delhi (Purani Dilli). Here, the Prime Minister recounts national accomplishments, as well as reminding the nation of current challenges and future goals.
Festivities will then follow, usually involving the singing of the national anthem at various cultural and flag raising events, as well as parades across the whole country. Kite flying has become popular too! Government offices in New Delhi remain lit throughout the celebrations, even though they will be closed.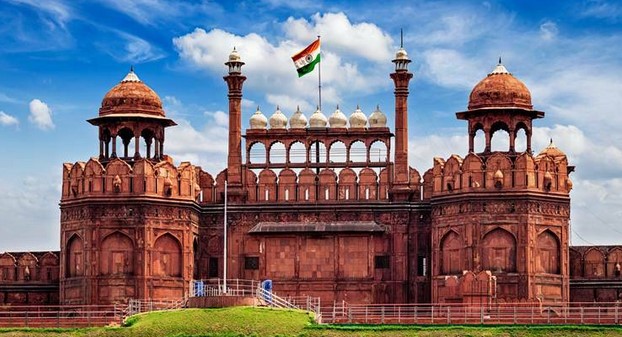 The first Prime Minister of India, Jawaharlal Nehru, hoisted the Indian flag above the Lahori Gate at the Red Fort on the nation's first day of Independence on the 15th August, 1947, and subsequent prime ministers have continued to do so ever since.
The Red Fort, which is said to have been designed by Ustad Ahmad Lahori, who also oversaw the construction of  the Taj Mahal, has been a UNESCO World Heritage site since 2007. Construction of the Red Fort began in 1638, when Emperor Shah Jahan made Delhi his capital, and became the residence of the Mughal emperors, before later invasions by the Persians, and then the British plundered the fort of its wealth. This makes the Red Fort a fitting setting for the leader of the country to address the citizens of India on the anniversary of the country's independence.