Choose your Independence Day Lotto numbers
To enter the game select your Independence Day Lotto numbers. Make sure you pick six numbers from the main number range, which is 1 - 50. Don't forget to pick out your Joker Ball from 1-5, as that number can change your entire game. If you would rather leave everything up to chance, you can click on the 'Quick Pick' button where your seven numbers will randomly be selected for you.
To learn more about how to play, visit our dedicated instructions page.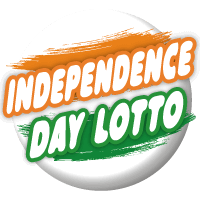 Independence Day Lotto Jackpot
Time left to participate:
Sorry, Independence Day
Lotto is not yet available
to play from your location.
Make sure you pick your numbers before the 5:50 PM IST on the 16th August as the draw takes place at 6:00 PM IST. If you miss the deadline, you will need to wait a whole year before you can be within the chance of winning ₹400 million.
Benefits of Buying Entries Online
The Independence Day Lotto is an exclusive online event, this means that you can take part in this exciting draw from anywhere. Make sure to get your bets in before 5:50 PM IST on Independence day.
All Lotto India Independence Day bets are purchased through a regulated and licensed website. You can be rest assured that you are in safe hands. Once you have picked your lucky numbers and paid for your entries, you can view your chosen numbers at any time through your online account. If you experience any issues, fear not, as the Live Chat team is there to help you. Simply click on the blue support button found on the right-hand side of the page and you will instantly be connected to a customer support agent.
You don't need to worry about misplacing or damaging your tickets for this draw as everything is done 100% online. The only thing you need to do is hope that your lucky numbers are lucky enough to win you the ₹400 million jackpot!
You will be notified automatically whenever you have won something. This means that you don't need to constantly refresh that results page, you will get an email about your winnings right away.
You can take part in this draw from any device you have available. Simply log-in to your account and pick your seven numbers in a few clicks.
If you require any assistance, the Live Chat support team is available from 11:30 - 03:30 IST. You can also seek out help via email or telephone.